Since I'm working on some charity sewing projects which are totally boring and non-clothing related (though still very important!) I haven't gotten to do very much sewing for me. Since the projects are super boring and the weather has been so beautiful, I've done much procrastinating*. Since my son is still eating his lunch, I thought I'd have time to post a few shirts I've found on ModCloth and Anthropologie that I'd like to copy.
From Anthropologie: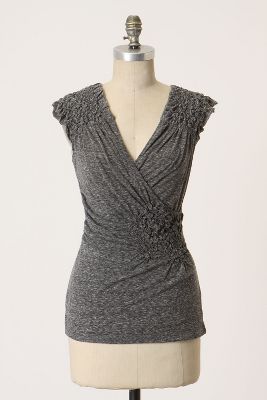 I don't know how they did those little lumpy parts, but it looks pretty cool. 🙂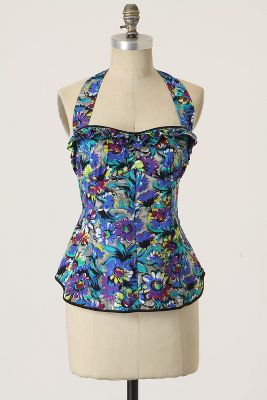 Pretend it's in a color of your choice–isn't that a cute design once you cut through the hideous fabric? I'm a sucker for a sweetheart neckline, always have been.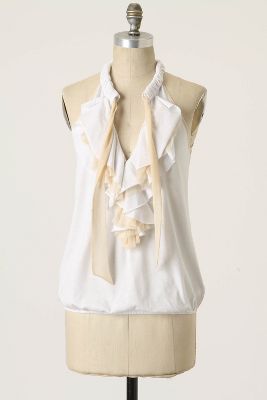 I LOVE this one. Except that their version has the CB seam exposed, which I'm sure that they want to claim it's a design "feature", but I still think it's a mistake and I wouldn't do it that way on my own version (if I ever get around to copying it.) Actually, I would make it so that there was a keyhole in the front without the little ties, and have it with a mostly open back….
From ModCloth:
I'd eliminate the cap sleeves because I don't think they add anything, and I find them uncomfortable, but I really like this one.
Well, I'll be back this weekend, hopefully, to post pictures of my charity projects. Happy stitching! 🙂
*Yes, I know, improper grammar and all that…